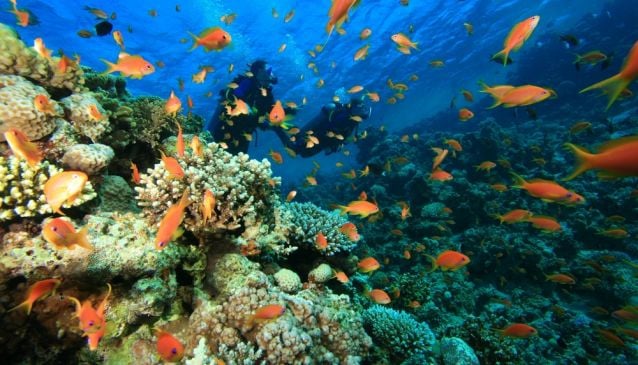 Diving in Jeddah, Saudi Arabia
Family Fun
Enjoy the beauty of the Red Sea without having to endure swarms of other tourists
The Red Sea is known the world over for being one of the best diving destinations on the planet. It enjoys an average temperature of 35 °C in the summer and 25 °C in the winter, meaning it can be swum in comfortably all year-round. Its dreamy turquoise waters have exceptional visibility – usually 30-40m – and its abundance of stunning, undamaged coral reefs help sustain an enormously rich and varied ecosystem. An incredible 1,200 species of fish, including pipefish, comet long fin and emperor angelfish, have been recorded here and 10% of that number is not found anywhere else on earth.
Egypt – and particularly the resort of Sharm el-Sheikh – is by far the most popular Red Sea destination with international tourists, but what many forget is that this natural wonder actually has six countries bordering it. The one which enjoys the largest portion of coastline (more than double that of Egypt) is the Kingdom of Saudi Arabia.
The city of Jeddah, which has been affectionately nicknamed the 'Bride of the Red Sea' by locals, is a perfect place to base yourself for a diving holiday in Saudi Arabia. It is located in the middle of the Saudi coastline and serviced by both an international seaport and an international airport. Jeddah is also the most multicultural city in the Kingdom.
The settlement began life as a small fishing village about 2,500 years ago but has since developed into a thriving metropolis with an estimated population of about 4 million, and is now widely recognised as the tourism capital of Saudi Arabia. Despite this, Jeddah has managed to retain its old-world charm, most obviously in the downtown historic quarter of Al Balad, where many of the ancient fishermen's homes have been lovingly restored. The city has great religious significance, too. Eve (of the Old Testament) is believed to have been buried here, hence the name 'Jeddah', which means 'grandmother' in Arabic. Furthermore, the city's ports receive millions of Muslims each year who are making the pilgrimage to Mecca, the holiest city in Islam, which lies 40 miles to the east.
With regards to scuba diving and snorkelling, there are numerous operators in Jeddah who will be able to arrange your excursion. Most cater for all abilities, so if you want little more than a paddle, to gain your PADI qualification or to plunge down into the deepest, darkest depths, you'll find something that fits.
Although you can dive straight off the beach at Jeddah itself, a better option is to visit one of the numerous regions scattered to the south and north, where the reefs are in better condition and much less crowded. Below we have listed three of the best spots but keep in mind this is just the tip of the iceberg. (Not that you'll be seeing one of those in these parts!)
Yanbu, about 300km north of Jeddah and only accessible by boat, has a beautiful sandy beach and a hugely diverse amount of marine life around its reefs. You can expect to see green and hawksbill turtles, dugongs (otherwise known as sea cows), whales and dolphins.
Rabigh, about 150km south of Jeddah, is known for its gorgeous reefs, which include enormous table corals, and of course the marine life. It can be reached by road from Jeddah and the diving location is situated on the northern side of Rabigh's desalination plant.
The Farasan Banks, about 200km south of Jeddah, has some of the most immaculate reefs in the Red Sea, and sightings of giant green turtles, huge rays and sharks are the norm rather than the exception. There is also a resort with a supermarket, swimming pool and dive shop.
Saudi Arabia has been overlooked as a diving destination for far too long and for this reason is still an ideal place to experience the beauty of the Red Sea without having to endure swarms of other tourists.
Image credits:
Main – Rich Carey
Jeddah – Urosr
Dugong - Stephan Kerkhofs
Turtle - Khoroshunova Olga