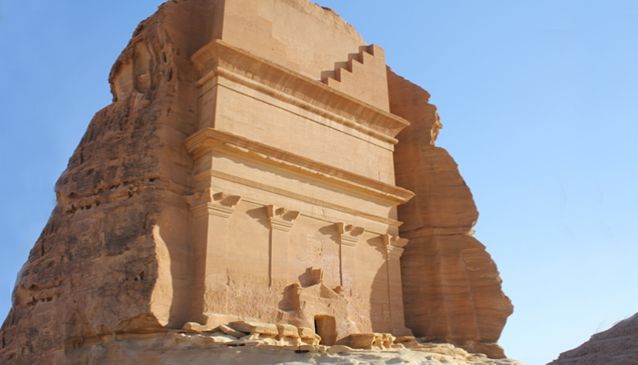 Sightseeing at Mada'in Saleh
Arts & Culture
In 2010 whilst Petra received 980,000 visitors, Mada'in Saleh had only 40,000 grace its threshold
If you are planning on visiting a World Heritage Site this year then we ask you to give the well-trodden rose stones of Petra in Jordan a miss. Instead, help to put her little sister, Mada'in Saleh in Saudi Arabia, back on the map. The site is one of the newest World Heritage additions, having previously earned itself a place in the atlas obscura. It is now undergoing a process of opening up and revealing itself to the modern era.
Image by RetlawSnellac.
History of Mada'in Saleh:
On first appearances, Mada'in Saleh seems so very similar to Petra. This is because both cities were built by the Nabatean Kingdom who reigned during the first century AD. The Nabatean lands ran between Judea in the north and Egypt in the south and were around during the time of the Romans. They remained an independent 'client kingdom' of the Empire, which was certainly no mean feat against the might of the barbaric Roman Emperors. Especially when renowned Roman philosophers such as Pliny the Elder began acknowledging the power and beauty of Mada'in Saleh and Petra.
The site lies 200 miles north of Medina and this is roughly half way between Petra and Mecca. Mada'in Saleh was the second-largest and southernmost settlement in the Nabatean Kingdom after Petra, the capital. The Nabateans built both of the cities by carving into the rock faces and creating beautifully intricate and expertly designed facades.
Mada'in Saleh was declared an archaeological treasure in the early 1970s and a World Heritage Site in 2008. To date, UNESCO has counted one hundred and eleven tombs within the complex and Saudis lovingly refer it to as the 'Capital of Monuments'.
Tourism at Mada'in Saleh:
Given the similarity of Mada'in Saleh to Petra, it is surprising that UNESCO only tentatively added it to their list as late as 2008. Indeed one would be astonished to learn that in 2010, whilst Petra received 980,000 visitors, Mada'in Saleh had only 40,000 grace its threshold.
Critics argue this is for several different reasons. For Western visitors, the reasons include the fact that they were prohibited access for so long and can still only visit with permit permission. This authority has to be gained prior to your trip from Riyadh, although it can usually be obtained quite easily by Tour Operators or Hotels. Also very little is known about the site compared to Petra, due to insufficient archaeological and scientific digs.
In addition to a low influx of foreign tourists, low numbers of local and regional tourists are due to Mada'in Saleh's reputation as a cursed place. The original nomadic Thamud people who lived at Mada'in Saleh are said to have been punished for their idol worship. Like the plague in other parts of the world, it's said that lightning, earthquakes and other natural disasters struck down the Thamud people, and ever since there has been a cloud of mystery and fear attached to Mada'in Saleh.
Image by RetlawSnellac.
Why should you visit?
It may therefore leave you wondering why you would choose to visit Mada'in Saleh. Indeed, even today, local, regional and international tourists are still a rare sight. However, this fact alone makes it the perfect destination for all those travellers who want to experience the majesty of these ancient carvings without the hustle and bustle of thousands of other spectators.
So now My Guide are calling upon anyone who sees themselves as an archaeological hero, an Indiana Jones figure, to put this at the top of their bucket list for the next year. It is advised that visitors come between December and March in order to fully appreciate the monument away from the full glare of the summer sun. The Saudi government needs new visitors in order to finally shake off the veil that has shrouded this magnificent site for so long.